Tuesday, January 28, 2014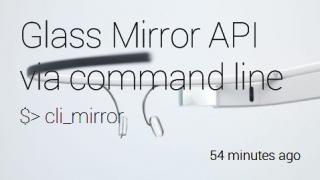 Google's Mirror API is, beside native GDK apps, one way to communicate with Google Glass. It is based on a range of OAuth authenticated web-service methods. The default way to use the Mirror API is to present the user a Web application where he could first register his Glass using a Google account. After this step the app or service is able to send info's like text messages, contacts, images etc. to the users Glass device. But what if you just want to make a quick test and don't want to develop even a simple web app or you need a way to quickly send info's from a cron job every hour?
This is where cli_mirror comes in handy.