Finally after my first Glass was somehow damaged (see this blog post) the new one arrived. This model can be extended with a frame for prescription lenses. Nice - because for me needing prescription glasses wearing the normal explorer edition over my normal glasses was not always so comfortable.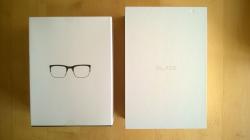 So far nothing new for the Glass itself except that the whole explorer frame can be detached from Glass's main part (battery, electronics and display) by removing a screw with the included small screewdriver. Now the prescription glass frame can be mounted the same way. The new cyan frame looks quite fresh compared to the silvery gray color of the old one. Although I will attract more attention with it for sure.
Besides the old carrying bag the new frame comes with a hard-shell with zipper case which provides better protection then the carrying bag.

Click on a picture for a larger view