Yaesu FT-817 / FT-100 SoundCard Interface
(The "Box")
Table of contents
Purpose
The purpose of the SoundCard Interface is to connect the Computers Soundcard to the Radios NF In and OUT Pins and (to some degree) to reduce noice and hum on the cable. This is accomplished by two NF Transformers. I know, there would be better, more sophisticated Ways to do this (like optical isolation etc.) but the way I did it is cheap, simple, easy to build and is small in size (and til now it works good).

DISCLAIMER:
THIS CABLE IS JUST ONE WAY TO CONNECT YOUR RADIO TO A PC - OTHER, MAY BE BETTER WAYS,
MAY EXISTS - IT'S UP TO YOUR RESPONSIBILITY IF YOU BUILD AND USE THIS CABLE. UNDER NO 
CIRCUMSTANCES I AM RESPONSIBLE  FOR ANY DAMAGES TO YOUR RADIO OR PC! THIS  DEVICE WAS 
TESTED  WITH  DIFFERENT  RADIOS AND PC'S AND  UNTIL  NOW IT  WORKS WITHOUT  PROBLEMS.

Schematics
The Schematic is so far very simple. Just two NF Transformers and two Trimmers to adjust the NF Levels - that's it.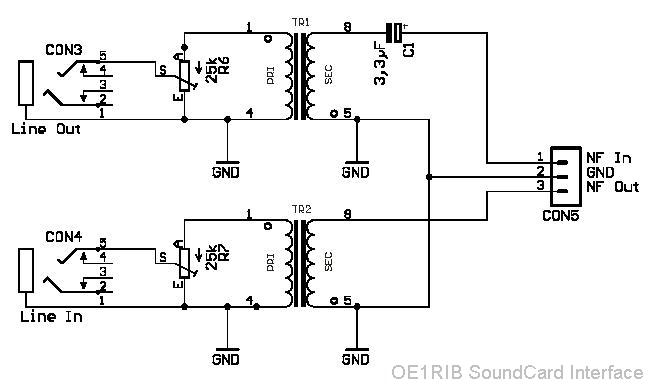 Image 1: Soundcard-Interface
The Box can be used in combination with my Cat Interface Cable as you can see on Image 2.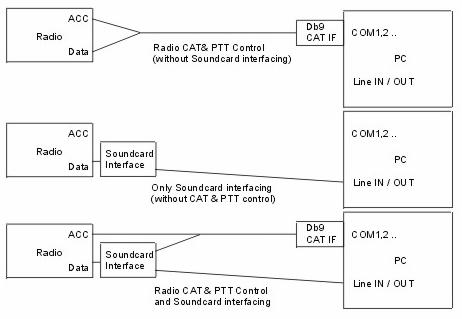 Image 2: Cable overview
The PCB
Sorry there is no PCB available at the moment. The reason is that I try to include a Tuning aid (like One Touch Tune) in the Box. If this is finished I will make a PCB for the Box. For now it is just prototyped on Perfboard as you can see on the Pictures.
Pictures of the finished Box
(Prototyping version)

Image 3: Interface Box

Image 4: Close Up of Box
| | | |
| --- | --- | --- |
| Image 5: Mounted Box - Front | | Image 6: Mounted Box - Back |

Image 7: Mounted Box - Side
Notes & Comments
Some notes to the Box:

You can mount it with double sided Tape on the FT-817 (see Pictures)

Always use good quality NF cables. I had big troubles with cheap NF cables for PC speaker systems from the next computer store. First I thought the fault lies in the Box but after some investigation I found out that the cables made the problems. The shielding of this cables is very poor. I now use self made cables with good quality plugs and they work as they should.

For the 6 and 8 Pin Mini DIN Plugs and Sockets you can use Cables from your next computer store but be sure that ALL Pins are connected from Socket to Plug. On some cables this is not the case. Or if you have a soldering iron with a very fine tip you can solder them yourself (but be warned - it's a realy boring job ;-)

Specification about the used NF transformer can be found in this PDF. Unfortunately it's in german but the figures should speak for themselfs.
If you have any comments or sugestions just drop me a line.

73, OE1RIB
---